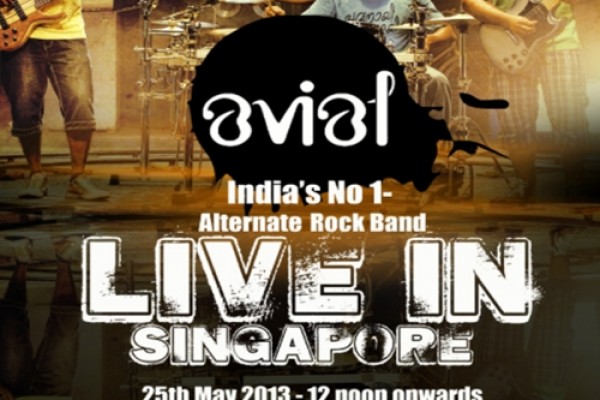 Its time now to explore one of the premium alternative rock bands from India over a beach party in Singapore at East Coast Park beach
avial rock band live in singapore performs its first ever show in singapore at a beach party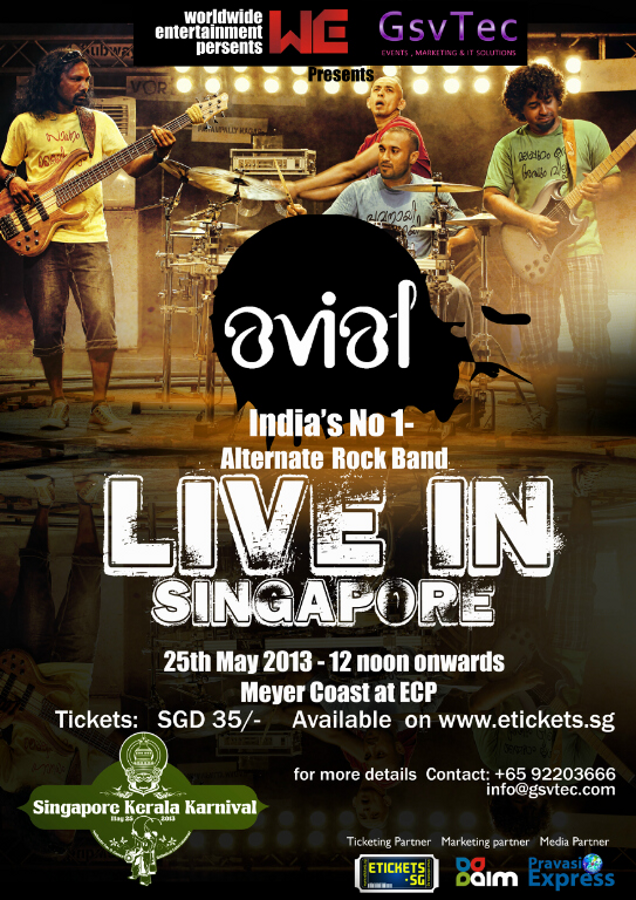 tickets at http://www.etickets.sg/events/singapore/events/2013/rock-show/avial-rock-show-live-in-singapore-on-may-25-2013/219
Avial is an Indian alternative rock band which formed in Trivandrum, Kerala, India in 2003. The band is named after the popular South Indian dish Avial. The band consists of Tony John (vocals), Rex Vijayan (guitars), Mithun Puthanveetil (drums), and Binny Isaac (bass). The band's music is a fusion of native folk music from Kerala and Alternative Rock. They focus on rock performances only in Malayalam language.
True to their name, Avial (a mixed-vegetable delicacy) blends Malayalam Poetry with Contemporary Alternative Rock Music. With elements of Indie Rock and Folk Music underlying an electronic feel, Avial's music has overcome language barriers not only in India but is also drawing fans across the sub-continent and the globe. It has an increasing fan following, with a revolutionary approach in today's contemporary music scene in India. The band members come from an in-depth musical background, with a diverse exposure of working with different bands before they could come together. In search of something more intrinsic, with a sense of belonging, Avial discovered and articulated the expression in their own mother tongue, dared to express their music with their self-titled debut album. Fetching a great name for them selves, Avial is one of the most sought after Indian bands today, transcending genres, justifying the term "Alternative Malayalam Rock"
Avial depicts the social scene of Kerala and the common man residing there about a hundred years back. The music consists of folk songs that were predominantly sung by the workers in the paddy fields, along with alternative rock. The plight of farmers whose hard-earned crop was seized by the local landlords is clearly portrayed in the lyrics of their songs. This portrayal is a new trend, and is unlike the other lyrical themes of majority of the conventional rock bands.
Avial has devised its own flavour of music, which the band members refer to as "Alternative Malayali Rock", that reflects the one of a kind heritage of Kerala life. The Malayalam lyrics used are well blended into their rock songs. The band's maiden album has been complimented for excellent instrumental play, brilliant singing, and lyrics which are beautiful and poignant at the same time. The album received generally positive response from rock enthusiasts in India, especially the youth.
Shows were also held internationally in places like Dubai, Mauritius, Reunion Island etc. They were honored to perform at the Sakifo (Reunion) World Music Festival held in Mauritius that brought together 40 rock bands from across the world. Avial was the lone band to be selected from India to represent the country in the festival. The experience was special for the band since the crowd was multinational, mostly French. Impressed with their music, the popular Italian band 'A67 approached them to be a part of one of their forthcoming album, 'Suburb', its one song collaboration. The collaboration spawned the song "Chi Me Sape".